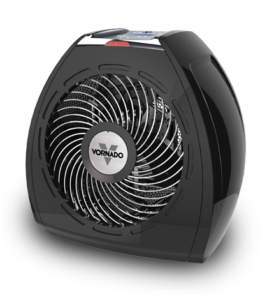 Using full metal construction, the Vornado TVH 500 Touchstone Vortex Heater feels solid right out of the box. Weighing 8.8 pounds, it is more than twice the weight of the MVH heater. This may make it slightly less portable. However the extra weight gives the unit more stability and less likely to tip over in everyday use where there is activity in the area.
Space Heater for a Larger Room
Using its patented Vortex technology, the TVH 500 unit moves heat throughout the entire room rather than just heating the space in front of the heater. For this reason it is capable of heating a larger room, even one up to 250 square feet.
One important upgrade to this unit is its automatic climate control. A large LCD screen at the top of the unit displays both the current room temperature and the target room temperature. Use the simple push button controls to activate the climate control feature. The unit will heat the room to the desired temperature, then self-adjust to maintain this temperature.
The TVH 500 also comes with an energy-saving timer which allows you to instruct the unit to turn off automatically. The unit can be powered off at one hour intervals for a 12 hour period. This is a great feature for both safety and convenience.
For year round use, the TVH 500 will operate in fan only mode. This is more than an "oh, that's nice" feature. Vornado is known worldwide for its high quality, quiet fans. In the fan only market, it has few equals.
Stylish as well, the unit is features a glossy finish, available in both black and white. Its three prong, grounded power cord creates a more secure connection to your wall outlet.
For an upgrade to this model, consider the Vornado TVH 600 Whole Room Heater. The TVH 600 comes with a wireless remote which will control all of the above features from a location several feet away.